---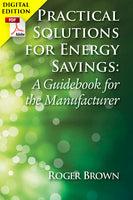 This is a single license Digital eBook PDF File that is downloadable, and password protected
eBook Description
This book will reveal cost reductions and how to slash your energy costs without investing big money. The three pillars of costs reduction will discussed: Assembling your options and analyzing your risk; developing options with your utility; and cutting out obvious waste in your operation. Those who will benefit from this excellent text are business owners, CFOs, plant managers, plant engineers, and energy managers. You will learn how to distill what savings are possible and how you can quickly accomplish those savings from what you already know and can expect to walk away at the end of this book with confidence and a realistic plan of action for reducing your costs.
Table of Contents
Introduction
Is this book for you?
Part I—What's in This for You?
Chapter 1 How to Lower Your Costs Fast
The Main Problem
Chapter Summary
Chapter 2 Three Case Studies—Can You Really Save Millions?
Case 1: Multiple large pumps in Texas
Case 2: Paper mill in South Carolina
Case 3: Small operation that saved 40%
The Bad Thing about Case Studies
What Have We Learned from the Case Studies?
Chapter Summary
PART II—Tools for Demand and Cost Reduction
Chapter 3 Demand Response/Interruptible Service
The Origins of Interruptibility
Details You Need to Know
Why Utilities Have Interruptible Service
Also, You Need to Meet the I.S. Program Manager
An Example of Interruptible Service That Works
Economic Curtailments
Chapter Summary
Chapter 4 Thoroughly Understand Your Relative Risk to Win with Interruptible Opportunities
In Deregulated Power Markets, Things Work Like This
So, What Options Are Available to Reduce Costs?
Three Keys to Understanding Bills
Why Would a Utility Care When You Use Your Energy?
Understanding How Your Utility Buys Power
Reliability Is in The Eye of The Beholder
Chapter Summary
Chapter 5 Real Time Pricing (RTP)
More on Real-time Pricing
Chapter Summary
Chapter 6 Coincident Peak Costs
What Is It?
How It Works
Why Coincident Peak Programs Can Be So Powerful for You
Chapter Summary
Chapter 7 Solar Power
What Does It All Mean for Manufacturing Plants?
What is Solar Exactly, and How Does It Work?
Solar Roof from Tesla
Net Metering and Renewable Energy Certificates
How to Compare Your Solar Storage Options
Chapter Summary
Chapter 8 Energy Management Systems
Components of an Energy Management System (EMS)
Sources of Funding for Energy Projects
Chapter Summary
PART III—Free Money
Chapter 9 Sales Tax 
Sales Tax Exemptions
Which Businesses Are Exempt and Why?
Refunds for Overpayment
States Which Allow Manufacturers to Exempt Sales Tax on Utility Bills
Chapter Summary
Chapter 10 Billing Line Items You Can Remove
Ratcheted Demand Charges
Systems Rentals/Facilities Costs
Chapter Summary
Chapter 11 Combining Meters
Why So Many Meters?
Options You May Have for Meter Combination
Quick Primer on Power Delivery— Centralized Power Generation
Chapter Summary
PART IV—How to Get Things Done with Your Utility
Chapter 12 Dealing with Your Utility
How a Utility Works
How to Work with a Utility Most Effectively
Chapter Summary
Chapter 13 Appoint a Champion and Get Things Done
Why People Have Trouble Implementing Things
Who Should You Choose to Be Your Champion?
Projects Managed the Navy SEAL Way
The True Value of Third-party Oversight
Chapter Summary
Chapter 14 Long-term Monitoring and Acting on Your Data
How Do You Accomplish Big Things?
Action Plans
Chapter Summary
Chapter 15 Summary and Plan Going Forward
The Challenges Ahead
Key Points of the New Approach
Ancillary Benefits of Energy Saving
Final Thoughts
Addendum
How Having DSIRE Can Save You a Lot of Money
Summary
Mindset
Five Energy Trends
Inertia of the Status Quo
CO2 Science and the Battle to Save the Planet
Why Excess CO2 Makes Temperatures Rise
Is Energy Creation the Only Cause of Atmospheric CO2?
What Happens If We Do Nothing? 
Global Emissions by Economic Sector
Countries that Contribute to CO2 Emissions
What Can We Do About It?
Index
Biography
Roger Brown is a graduate of Georgia Tech's H. Milton Stewart School of Industrial and Systems Engineering. His articles on cost reduction and the future of energy have appeared in Paper 360, the journal of the pulp and paper industry. He has directed energy cost optimization projects for clients in the United States and Canada for the past 20 years. His passions include diving with sharks and flying light aircraft.
Author: Roger Brown
e-ISBN: 9788770222600