---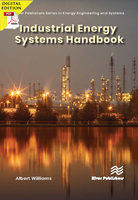 This is a single license Digital eBook PDF File that is downloadable, and password protected
eBook Description

Industrial Energy Systems Handbook is a supplementary reading resource for candidates undertaking the Association of Energy Engineers (AEE) Certified Industrial Energy Professional (CIEP) program.
Understanding how the various industrial systems work is key to identifying savings opportunities. An overview is given of the global energy situation as at the time of publication which cements the necessity to improve energy intensive processes to become more optimized.
Comprehension of opportunities to optimize an industrial energy system starts with the fundamentals of energy, electrical energy and thermal energy, and the importance of energy management systems and industrial energy audits.
The main energy consuming systems in industry are covered such as steam, compressed air, motors, drives, fans, pumps, lighting, furnaces, heat exchange systems, and large scale cooling and industrial refrigeration. The instrumentation and control as well as toolkits available rounds off the handbook topics.
Table of Contents
Chapter 1
Global Energy Situation on Climate Change
Albert Williams
Chapter 2
Fundamental Principles of Energy
Louis Lagrange
Chapter 3
Energy Conversion and Efficiency
Louis Lagrange
Chapter 4
Fundamentals of Electrical Energy
Louis Lagrange
Chapter 5
Fundamentals of Thermal Energy
Albert Williams
Chapter 6
Energy Management Systems and Industrial Energy Audits
Albert Williams & Yolanda de Lange
Chapter 7
Instrumentation and Control
Albert Williams
Chapter 8
Energy Investigation Support Tools
Albert Williams
Chapter 9
Fuels, Furnaces, and Fired Equipment
Albert Williams
Chapter 10
Heat Exchange Systems
Albert Williams
Chapter 11
Steam Systems
Albert Williams
Chapter 12
Motors and Drives
Albert Williams & Eustace Njeru
Chapter 13
Fan Systems
Albert Williams
Chapter 14
Pump Systems
Albert Williams
Chapter 15
Compressed Air Systems
Albert Williams
Chapter 16
Large Scale Cooling and Industrial Refrigeration Systems
Albert Williams
About the Author
Albert E. Williams, C.E.M., C.I.E.P., is an energy engineer who has conducted energy audits and energy systems optimization consultancy work since 2006, during which time he has traveled and worked in 40 countries. This industry experience led him to become an international training instructor of over 130 courses, serving thousands of professionals. He is the lead developer of the CIEP™ course, a contributing course developer for the CEM® and CEA™ courses, and he serves on the Global Guidance Committee for the Association of Energy Engineers. He is an international energy award winner, and a leading international expert on compressed air systems optimization. He is the owner and founder of Honeyguide Energy Engineering. He is also an avid chess player, birder, ultra-marathon runner, and Ironman.

e-ISBN: 9788770226592