---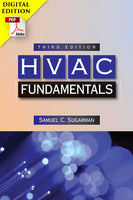 This is a single license Digital eBook PDF File that is downloadable, and password protected
eBook Description
Updated with chapters on ventilating and exhausting systems and HVAC systems, this third edition of a bestseller covers the range of HVAC systems. The coverages is into components and controls for air, water, heating, ventilating, and air conditioning and readers will learn why one component or system may be chosen over another. New information is included on occupancy comfort, process function, thermodynamics, heat transfer, building envelope conditioned space, heating and cooling load calculations, air duct fundamentals, water pipe fundamentals, variable flow water systems, refrigeration components, piping fundamentals, central plant water chiller optimization, and the latest heat recovery technologies.
Table of Contents
Chapter 1 Introduction to HVAC Systems
Heating, Ventilating, and Air Conditioning Systems
HVAC Components
How The HVAC System Works
Central HVAC System
Chapter 2 Heat Flow
Heat and Temperature
Heat Transfer
Units of Energy and Power
Electric and Heat Power Equivalents
Heat Content and Specific Heat of a Substance
Heat Measurements in Air Systems
Heat Transfer and Heat Load Equations
Conditioned Space Heating and Cooling Loads
Heat and Tons of Refrigeration
Chapter 3 Psychometrics
Psychrometric Chart
HVAC Processes on The Psychrometric Chart
HVAC Calculations and The Psychrometric Chart
Chapter 4 Heating and Ventilating Systems
Heating Systems
Combustion
Boiler Heating Systems
Steam Traps
Boilers
Fire Tube Boiler
Water Tube Boiler
Boiler Operation
Burner
Fuel-to-Air/Air-to-Fuel Ratio
Electric Boiler
Heat and Fluid Flow Calculations for Heating System
Ventilating Systems
Chapter 5 Air Conditioning Systems
Heat and Fluid Flow
Calculations for Air Conditioning Systems
The AC Refrigeration Cycle
Airflow
Four Types of Air Conditioning Cooling Systems
AC Cooling System #1
AC Cooling System #2
AC Cooling System #3
AC Cooling System #4
Problem
Air Conditioning Components
Vapor-Compression System
Evaporators
Condensers
Compressors
Metering Devices
Chapter 6 Fans and Pumps, Drives and Motors
Prime Movers
Fan Operation
Fan Pressures
Fan Types
Special Design Fans
Other Fan Categories
Fan Curve
Fan Performance Table
Pump Operation
Pump Curve
Drives
Drive Information
Motors and Motor Nameplate
Motor Controllers and Motor Protection
Chapter 7 Air Distribution
Ductwork
Airflow Control
Chapter 8 Water Distribution
Hydronic Pipe Systems
Filtration
Flow Control
Air Control
Heat Conversion Equipment
Water Chiller
Centrifugal Water Chiller
Reciprocating and Screw Compressor Water Chiller
Absorption Chillers
Chapter 9 Variable Volume Systems
Variable Volume Air System
Maximizing VAV Performance
Variable Volume Refrigerant System
Variable Water Volume System
Chapter 10 Controls
Direct Digital Control Systems Operation
Benefits of Direct Digital Control
Energy Management Control Systems
Control Components
Pneumatic Control System
Example Control Subsystems
Chapter 11 System Selection and Optimization
Selection
Selection Guidelines
Types of HVAC Systems
Unitary System
Split System
Optimization
HVAC System ECO
Airside ECO
Waterside ECO
Refrigeration Side ECO
Boiler ECO
Heat Recovery
Heat Exchanger
Heat Recovery Heat Exchanger
System and Component List
Chapter 12 Lexicon
Chapter 13 Abbreviations, Acronyms, Symbols
Chapter 14 Tables
Table of Tables
Chapter 15 HVAC Math
Index
Author: Samuel C. Sugarman
e-ISBN: 9788770223287
SAMUEL C. SUGARMAN, C.T.A.B., C.E.M., C.D.S.M., C.I.A.Q.M., is an internationally recognized HVAC and TAB consultant, instructor and author. He has consulted on projects for testing and balancing, performance evaluation, design, retrofit and commissioning of HVAC systems for cleanroom facilities, corporate headquarters, government facilities, office complexes, hotels, hospitals, fume hood labs, major retail establishments, military installations, nuclear power plants, private and public schools, colleges and universities.   Mr. Sugarman was an adjunct professor at San Diego City College, and has also instructed over 250 HVAC, TAB and energy management training programs and seminars for various organizations, including AEE, ASHRAE, and the National Energy Management Institute. He has authored several books and training manuals on topics in the areas of his expertise and has received numerous awards and special recognition for his accomplishments. He currently serves as Board Chairman of the International Registry of CTAB Professionals.
Also Available....Webinar and On Demand Seminar on Understanding and Optimizing HVAC Systems in Commercial and Institutional Buildings