---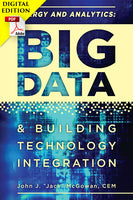 This is a single license Digital eBook PDF File that is downloadable, and password protected
eBook Description
This book details how to leverage big data style analytics to manage and coordinate the key issues in both energy supply and demand. It presents a detailed explanation of the underlying systems technology that enables big data in buildings and how this technology provides added cost benefit from efficiency, onsite solar, and electricity markets. It is a primer on Building Automation Systems Standards, web services and electricity markets and programs plus a complete tutorial on energy analytics hardware, software, and Internet-enabled offerings that energy managers must understand today.
Table of Contents
PART I—INTRODUCTION
The 21st Century Energy Marketplace and Facilities
4PLEX Energy
Energy and Analytics Energy Management Applications for Analytics
Dashboards and Visualization Tools
Dashboards
Dashboard Technology Situation Analysis
Dashboard Application Situation Analysis
Introduction to Analytics
Alarms
FD&D—Fault Detection & Diagnosis
Some Examples Help to Highlight the Distinctions
Can Analytics Effect Control Actions?
Data Access—A Key Requirement for All Data-Oriented Tools
Analytics as an Exploratory Process
Analytics for Energy Management in Buildings and on Campuses
History and Process
Energy Efficiency and Conservation
Peak Load Management
Distributed Generation
Demand Response
Electricity Market Participation
Analytics for Operations and Equipment Maintenance in Buildings and on Campuses
Importance of This Content
Introduction by James M.Lee
Preventive Maintenance
Predictive Maintenance
What is Required to Deploy a Predictive Maintenance program?
Benefits
Conclusion
PART II— INTRODUCTION TO TECHNOLOGY CONTENT
Building Systems Technology: The Foundation of Analytics
Six-Sigma Approach to Energy Management Planning
Introduction
Abstract
Introduction
Define Team and Budget
Measure Performance
Analyze Audit Data
Improve System Efficiency
Control Operations and Motivate Employees
Conclusions
State-of-the-art Building Automation Systems (BAS)Executing Direct Digital Control
Historical Perspective
BAS Market
BAS Technology
BADDC Technology for Equipment andGeneral Purpose Applications
BADDC Technology for Zone Level
Control Applications
Active Energy and Analytics
Introduction to Digital Communication for Building Automation and DDC
Data Messages
[Syn][Control][Error Chk][User Data] 
[Control][Header][Syn][Syn]
Protocols
Media Access Control (Mac)
Network Software
Signal Boosting and Inter-Protocol Networks
BAS Industry Networking
Internet and Web Services
Architecture
Topology
Energy and Analytics Data Access
Middleware—A New Frontier for Building Systems and Analytics
Middleware
Networks for Analytics
Energy and Analytics Network Systems
Middleware Ad hoc Network Infrastructure
Project Haystack Data Standards
Challenges with Data
Project Haystack Approach and Activities
The Internet of Things (IoT) 
Introduction
Definitions and Context
Trends Driving the Internet of Things
Buildings Opportunities 
Energy and Analytics Tools
Energy and Analytics Best Practices
Setting the Bar
Cloud Computing
Software as a Service (SaaS) orData as a Service (DaaS)
BAS, Middleware and HVAC-centric Solutions
Dashboard and API
Financing Energy Management for Buildings and Campuses
History
The Next Wave
Analytics for Measurement and Verification
Measurement and Verification (M&V) Science
Energy and Analytics
M&V in 21st Century Electric Markets
PART III— INTRODUCTION TO ENERGY AND ANALYTICS SUCCESS STORIES
88 Acres—The Microsoft Energy and Analytics Success Story
The Visionary
88 Acres in a One-stoplight Town
The Living, Breathing Building
Enough Data to Change the World
A Smarter Future
Smart People, Smart Grid
An Intuitive Tool to Understand Energy Use
Inspiring Future Generations
Envision Charlotte: Energy Big Data at Community Scale
Author: John J. "Jack" McGowan, CEM
e-ISBN: 9788770223256